The Dynamics of Video Poker
In recent times, Video Poker a professional game has garnered more attention than as a form of entertainment. Thanks to the hype surrounding Poker professionals and tournaments like World Series of Poker, it is widely believed that skilled and driven people can pursue the game as a career and achieve celebrity status.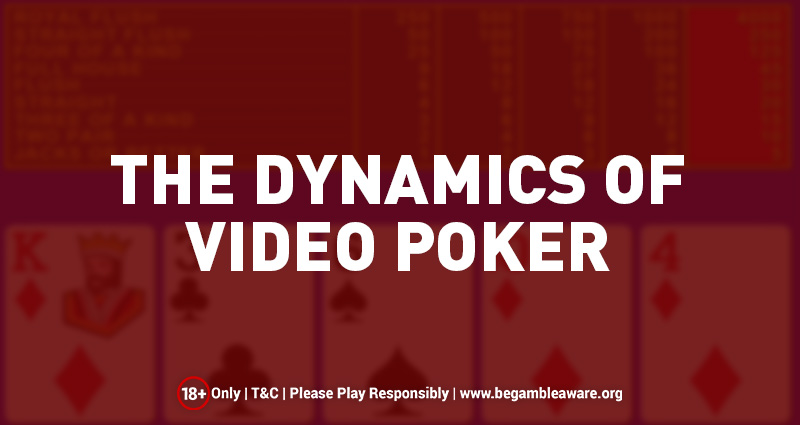 However, away from all the limelight hogged by these traditional Poker celebrities lies an arena of Video Poker and its professionals, who remain anonymous yet highly successful in their craft. With barely any publicity or announcements, these champions turn the wheels of probability upside down by winning big as a Video Poker player, in spite of inherent advantage to the casino.
In effect, winning consistently while playing your favourite Video Poker games is the most thrilling and difficult task to accomplish by any player.
The Video Poker professional
Not everyone props up the courage to play the Poker game professionally. Those who do so accept the low probability of consistent success while also taking the lonely experience in its stride. Yes, it is the perfect setting of man vs machine engaged in a mind game. Unlike a traditional Poker game with a dealer who runs the game or other players to feel for, a prolonged Video Poker game also tests one's ability to deal with mental and physical confinement.
The well-planned management of your bankroll, persistent efforts to play the game perfectly and enduring the pain that is part of a losing streak are essential ingredients to make a successful player of this game. Aspiring perfectionists must also be ready to get casted under constant suspicion by casino managers and disdain by their romantic partners!
Strategy
Video Poker has a very high probable return of around 99.54 per cent for typical gameplay, which is conditional to the player employing the optimal strategy. Another edge to the professional comes in the form of a logical selection of games, as some variants and tables of the game offer more than 100 per cent expected return. Rare as it may sound, any aspiring professional must not miss the chance to grab this positive wager opportunity. 
An astute player of the game must know the place to look for while navigating this byzantine world. The sharpest minds take the chance of a leg up even when the Poker hand is not favourable. This is done by getting enrolled in a Players Club program which offers comp points for every unit of money wagered on the game. These points can then be exchanged for shopping, accommodation or drinks.
Management of player bankroll
Bankroll management is one of the most crucial tasks that is cut out for anyone who wants to play the game of Poker professionally. Patience and playing with lower value machines until you earn a substantial return on your original bankroll is the key to maximising profitable games as well as swelling the bankroll. Another attribute that is associated with a good player is the ability to whittle down his stake in the face of professional judgement, without involving ego or emotions.
Play Poker at Fruity Wins Casino
Fruity Wins Casino offers the best slot game and Poker games tailored to the preferences of its players, while also providing a robust and secure mobile gaming version for all its games, including live casino.
Post Name: The Dynamics of Video Poker
Posted On: 05/07/2019
Author Name: Robert Bowron