Is Video Poker a game of skill?
Video Poker is one of the most played games in an online casino. The Video Poker is essentially an electronic version of the Poker game only that it can be played on the computers and mobile devices. The Video Poker is a five-card game that does not consist of any betting rounds. The game happens against the dealer and the game is easy to and play.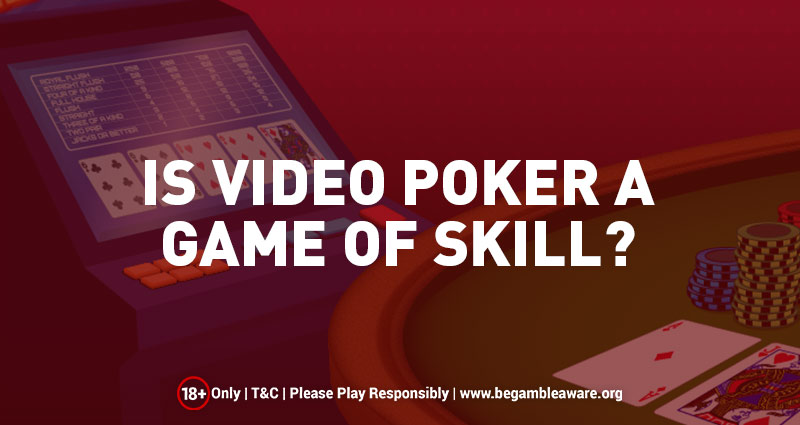 Do you need skill for playing Video Poker?
Since the game is easy to play, do you still need some skills? Yes, you do. There are some skills that are needed for a player to play Video Poker. The skill does not comprise of the gaming techniques but you need to be able to know what game to play and what to avoid. There are numerous variants of Video Poker games available. The best game is the one that pays you the highest percentages and takes the least from you. You need to be able to know which of these games will be beneficial to you in the longer run. 
Some important tips to remember
Here are some really useful tips that will help you in playing the Poker game efficiently. 
1. Always make sure to compare the payouts of the Video Pokers online. This is really easy to do. All you have to do is to check what are the payouts for the top hands that are Royal Flush, four of a kind and straight flush and full house.

2. In some games, there are reward cards available for the players. Make sure you use them. The reward card is like a golden card that lets the players collect perks by just playing the game. The reward cards are hard to collect but they can be really beneficial during the gameplay.

3. Play with as many coins as possible. If you are on a low budget, choose a Video Poker game that has smaller betting range. Playing with the maximum coins will increase your odds of winning considerably. 
Impressive Video Poker games await you at Fruity Wins Casino!
If you want to get your hands on some of the best online poker games, you should visit the Fruity Wins Casino. Here you can select your favourite games from a vast list of offerings. Team these games up with some promotional offers and you are set for a great game. The website is easy to navigate. So, even if you are a beginner to the world of online casinos, Fruity Wins can be your first and only choice.
Video Poker is a fun online casino game that does not require complicated strategies but there sure is the need for applying basic knowledge and technique if you want to gain a house edge and win during the gameplay. So, watch out!
Post Name: Is Video Poker a game of skill?
Posted On: 12/07/2019
Author Name: Robert Bowron