Top Table Games Etiquette to Play
The gambling industry continues to prove that it's one of the most vibrant entertainment economies in the world. Online and mobile betting accounted for Gross Gaming Yield (GGY) of £3.6 billion in 2014-15. The GGY rose to £14.5 billion for the period 2017-18 in the UK.  Brits over 18 may gamble at land-based casinos, online and via mobile.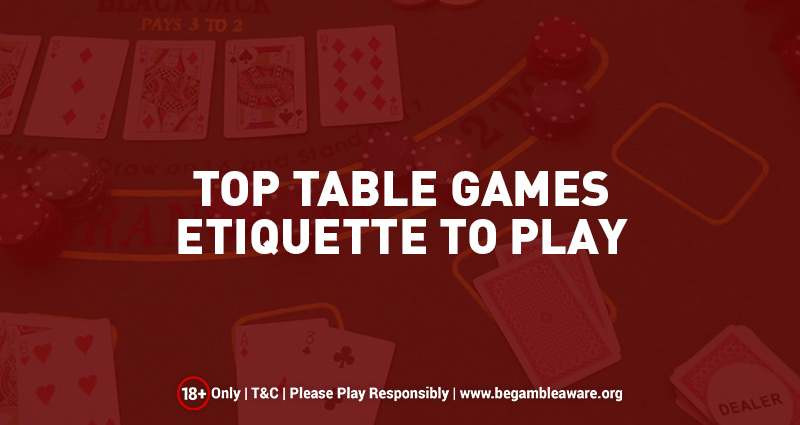 Playing table games in an online casino involves several unspoken rules of behaviour-etiquette.
Here are the top table game etiquette tips to play.
Know how to play before taking a seat
You should know how to play a live casino game before taking a seat at the table. You can play free video game versions of most casino table games at live casinos without investing money to learn the rules of the game. Some live casinos hold free classes on how to play the games. In these free classes, you will get to play with some free chips and get some experience before playing for real money.
If you are at the rare casino that doesn't offer these free classes, you can always "railbird" a game for a little while. Just watch what is happening from behind for a little while before sitting down.
Know when to buy your chips
Casino tokens are small discs used instead of currency in casinos. Chips are used to make wagers. Casinos and dealers have specific procedures while handling the purchase of the chips. You buy these chips at the table, and you lay the money on the table. You never hand the dealer money.
Buying chips is the easiest mistake newcomers make when sitting down at a table game in a casino. Make sure you are aware of the maximum and minimum bets of each table.
Don't drink too much
Casinos are a fun playground where you can chill out and have a good time while gambling. But don't let the booze get better of you. If you know you don't hold your liquor well, refrain from drinking for the duration of the game. You will have more fun and lose less money if you stay sober.
Don't ask the other players (or the dealer) how to play your hand
Never ask the dealer for advice about how to play your hand. She probably doesn't know the right move and even if she does, you are still accountable to lose.
The other thing about playing your hands is to make your decisions fast so as not to hold up the game. If you need to slow down your play for bankroll reasons, take a break from the table instead of playing slower table games.
Discover a plethora of online table games at Fruity Wins 
If you are a fan of playing online table games live, Fruity Wins has an excellent collection of table games and other games like slots, Roulette, Blackjack and many more. Fruity Wins also offer some of the unique and interesting bonus offers. So, do check them out today!
Post Name: Top Table Games Etiquette to Play
Posted On: 14/08/2019
Author Name: Robert Bowron