Slot Symbols – What Do They Mean?
A slot is a casino gambling machine that creates a game of chance for players. Slots are relatively simple games, but there are different aspects of the game that are important to understand before beginning to play. The main aspect is to know about the slot symbols.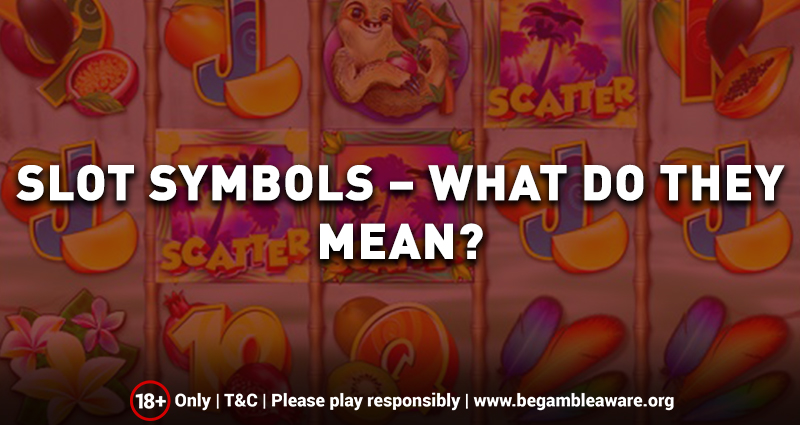 New online slots are released every day with advanced features, bringing new levels of excitement. All these are based on the same type of symbols, which makes it easy for you to learn about the game.
Online casinos offer various mini-games like scratch cards too. This casino guide will thoroughly describe the most popular type of symbols.
Standard symbols
These are the basic symbols of your game in a casino. Most online slots use card-based symbols. It pays out money when a winning line is a hit.
Ace (A), King (K), Queen (Q), Jack (J), Ten (10) and Nine (9) are the symbols used for online reels. The card suits Heart, Spades, Diamonds and Clubs can also be used. However, video slots tend to be more innovative by providing symbols that pay higher. Those usually feature the eye-catching visual effects and represent the theme of the game. Casinos use 3D effects and animations to provide an exceptional gambling experience.
In the classic type of slots, these low-value symbols are commonly represented by fruit symbols, such as Oranges, Cherries, Lemon and Grapes.
Wild symbols
Wild symbols are one of the most common types of symbols used in slots. Most 5-reel online slots feature such a type of symbol. They replace other symbols when appearing on a winning line. For instance, if you have a playing-card ion Ace (A) on the first and third reel, a wild symbol on the third reel will represent as Ace. This creates a winning line and the slot machine gives you a payout. Usually, the wild symbols may only replace standard symbols. However, other symbols can also be replaced in some slots. Nowadays, different types of wild symbols like expanding wilds, walking wilds and multiplier wilds are also used.
Scatter symbols
Scatter symbols are used as a bonus feature in most video slots. They are harder to find as they are rarer on the reel and usually have two functions. Scatter symbols pay out a certain amount of money which can reach high amounts if they appear enough. Besides paying out money, the scatter symbol also triggers a special feature which is usually a free spin mode.
The free spins round can be highly profitable for players. The base variant awards 5 to 15 free rounds, where the wins are based on your last bet which triggered this feature. The added bonuses in free spins round boost your winnings even further. Scatter symbols can also offer payouts on their own.
The best online slots games
Online slots have never been this enjoyable and more interesting than what Fruity Wins has to offer! Fruity Wins brings one of the best and largest selections of online slots and other casino games. With us, you will find a large gamut of casino games that are tailored for your needs and preferences.
Post Name: Slot Symbols – What Do They Mean?
Posted On: 20/09/2019
Author Name: Robert Bowron