How Playing Mobile Casino Can be Fun?
Mobile gambling refers to playing games of chance or skill for money by using a remote device such as a mobile phone or a tablet with a wireless internet connection.
Most of the big casino operators in the UK provide a mobile platform to their players. The increasing take-up and wagering with mobile casino games are transforming the gambling industry.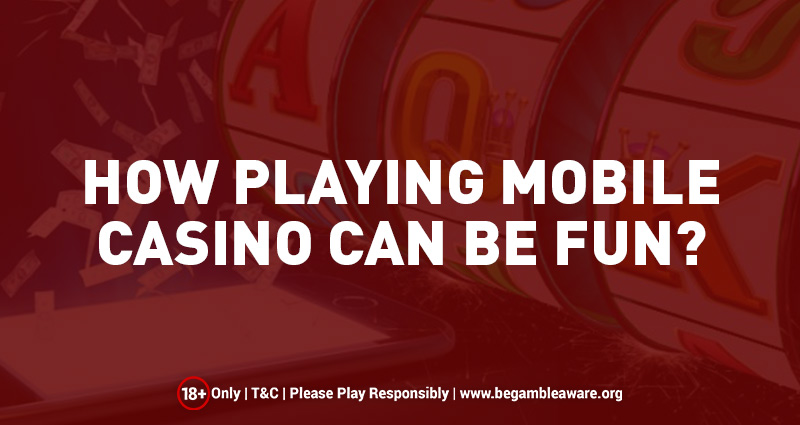 With the mobile casino, you can play your favourite casino games anywhere, anytime.
Players, who might not have gone to a traditional brick and mortar casino, can now bet and play in the way that fits their lifestyle.
Get access to the casino anywhere
With online revolution brought in the gaming industry, players who could not go to a regular casino can now have some fun playing their favourite casino games no matter where they are.
Mobile casinos are taking it to the next level. You can always play the mobile casino games wherever you are (like waiting for an order, queuing up, walking down the street, anywhere!). All you need to gamble in a mobile casino is a mobile phone or tablet with a stable internet connection.
Mobile casino games for everybody
Online casinos today offer a diverse variety of casino games. Hundreds of online gambling websites offer plenty of game types for mobile gamers. You can play games like online Blackjack, online slots, scratch cards and many more over the internet. All you need to do is sign up on a mobile casino website and choose the casino game you want to play. Some big casinos also offer free games and you can go through the review section of the website to select the game which is best suitable for you.
Most players do not stay close to a land-based casino and cannot play casino games in the traditional brick and mortar casino, most of the time. Mobile casino games bring the fun and excitement of a brick and mortar casino to your personal phone. The chances of winning when playing in a mobile casino are just as good as when you are playing in a real casino.
You can also bet on sports with your phone or tablet. Players have many advantages when they place a bet using the mobile device. This makes placing a bet exciting, especially when you yourself are present at a match. With mobile casinos, you are in a better position to assess a match and place a bet as well.
 

Have fun on the go with Fruity Wins Casino!

Mobile casinos are all about convenience. At Fruity Wins, you will find a large number of online casino games that are tailored to your needs and preferences. The live casino also offers all the games in the mobile version, which makes these games easily available and accessible. The mobile casino can easily be incorporated with all desktop features. Look forward to an amazing journey ahead, only at Fruity Wins!

Post Name: How Playing Mobile Casino Can be Fun?

Posted On: 04/09/2019

Author Name: Robert Bowron