Why Online Casinos are Transforming to Mobile Casino?
Mobile Casino – Expanding The World Of Casino Gambling
Life is all about change and when online casinos were first launched in the '90s, land casino owners viewed it as an opportunity to grow their business. Today, online casinos have to take a cue from their predecessors and embrace mobile casino as it is fast becoming the next big thing in the world of casino gambling.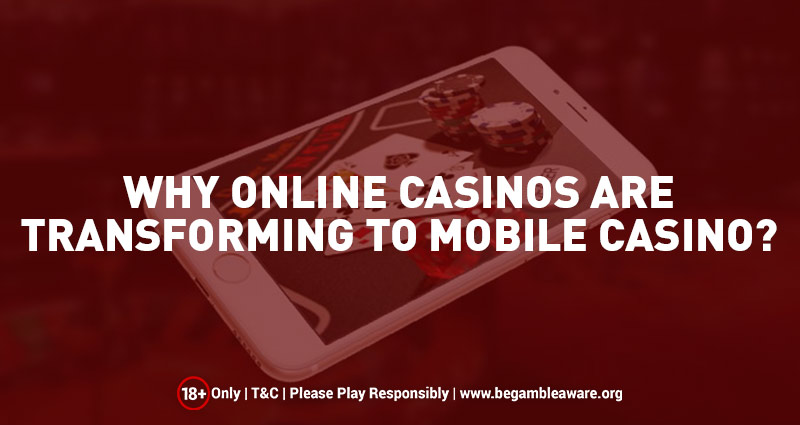 As land casino owners viewed the internet as an avenue to reach out to a vast number of potential customers, so also must online casino owners see mobile phone owners as potential customers. It is almost a rare thing to see an adult in this day and age without a mobile phone. When you put that into perspective, it means that virtually every adult in this world is a potential customer to a casino operating a mobile service.  
Switching to mobile compatibility mode
Online casinos are now viewing everyone as a potential customer and to this end, they have now made their services mobile compatible. Today, anyone within a permitted jurisdiction can download onto their mobile phones the mobile application of an online casino for free. 
What's more, online casinos make use of compatible software which enables mobile phone owners to play mobile versions of casino games using regular mobile phones, smartphones or even tablets. The operating systems of these phones do not really matter as well, as these online casinos have made their mobile apps and games compatible on Android, Windows and also iOS mobile operating systems. 
Reasons why an online casino would switch to mobile casino
There are several reasons why an online casino would now choose to become a mobile casino. Some of these reasons are quite obvious and include the following.
Huge earning potential:

While the internet offers a big earning potential for online casinos. The mobile casino

offers an even bigger earning potential. As mentioned before, most people own or readily have access to mobile phones, smartphones or tablets. Most people also make use of mobile phones to browse the internet these days instead of the use of desktop PCs and laptops which were traditionally used to browse the net.

Trust

: There is still a lot of apprehension by internet users when it comes to making online payments. Most users are wary of being scammed. So they are reluctant to divulge their credit or debit card details on online platforms. Mobile casino

payment can be made via a phone billing system that involves the mobile network provider. Mobile phone users would not be required to give out their credit or debit card details as payment is deducted from their phone bill. This is seen by many as a more trusted way of making payment.

Convenience

: Mobile phone users tend to carry their mobile device along with them wherever they go. So, they can play offline video games at any time they feel like. This same convenient gaming could also apply to mobile casino where mobile phone users can play casino games from their mobile device anywhere, anytime.
Fruity Wins offers excellence in mobile casino gaming
One mobile casino that everyone should try out today is Fruity Wins. You can download a free mobile app whether you are using an Android, Windows or iOS mobile device. You can also launch the mobile site with your mobile browser and play casino games including live casino games whenever you like. This mobile compatible casino offers a variety of casino games to occupy your day. Available on this site is video slot, card and table games. 
Post Name: Why Online Casinos are Transforming to Mobile Casino?
Posted On: 02/08/2019
Author Name: Robert Bowron