19% Growth in Mobile Casino by 2021
Most of everything today has an address online. With most businesses shifting to websites and providing services through apps, people see a lot of convenience and ease of access to all sorts of products and services online. And just like everything else the gaming market is also enjoying the advantages of going online. With a number of big names in the betting industry as well as small, independent developers trying to woo gaming-enthusiasts online, we have seen a definite increase in gaming websites and mobile gaming. The popularity of the mobile casino is so huge that experts predict a 19% growth in mobile casino gaming by 2021. Here is what experts think about the future of betting and gaming online.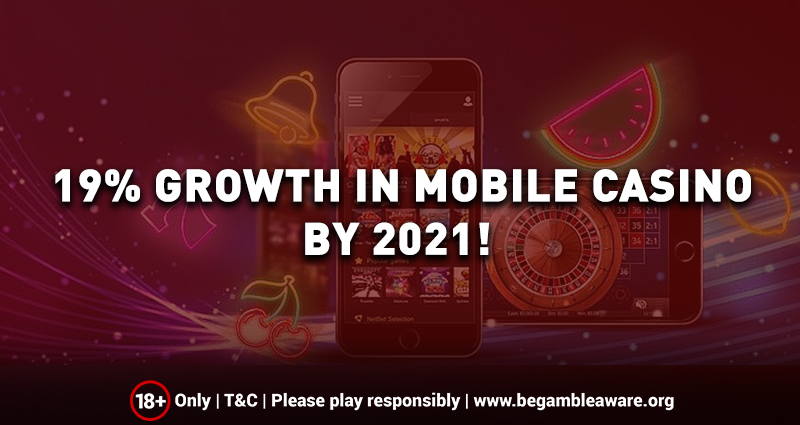 The interest will further increase in the future
Right now, the interest in online gaming and playing mobile casino games is at an all-time high. Where there were just a few tens of websites and mobile games related to the betting genre previously, today, there are hundreds of websites and games that cater to specific tastes and requirements. And experts predict that they will be more in the future. People are slowly starting to recognise the convenience of playing online and so, there is a good chance that patronage will increase in the future.
Gaming will become more convenient
In the future, online/mobile gaming will become more convenient. People can enjoy online slot games, live casino games, scratch cards, bingo games and more online. There are unlimited options available even today, whether people are looking to enjoy a few rounds of gameplay or make gaming their profession. The internet has become a haven for enthusiasts who are passionate about betting. Most of the online gaming companies are providing professional tournaments regularly allowing people to earn a few extra bucks from online gaming or even make it their profession. Additionally, casino websites are investing a lot of money and efforts in making their websites and services safe and secure too, which is a definite advantage for serious gamers. So, overall, the concept of mobile casino and online betting has made life more convenient, safe and entertaining for the betting enthusiast. 
There will be an increase in the number of recreational players too
Experts predict that the future is all about recreational players. It is predicted that mobile casino games will see a 75% increase in people who play for fun as opposed to people who play for income. This is good news for both the developers as well as people who play seriously. An increase in recreational players is good news for the whole mobile gaming market as it will build revenue and help to remove the stigma associated with gaming to a great extent. 
Mobile casino games at Fruity Wins
Fruity Wins is a unique online gaming platform tailor-made to suit the needs of all types of players. With numerous slot games from some of the best developers in the business, both professionals and gaming-enthusiasts can enjoy a game or more here!
Post Name: 19% Growth in Mobile Casino by 2021
Posted On: 27/09/2019
Author Name: Robert Bowron