Don't Ignore These 4 Mistakes When You Play Online Slots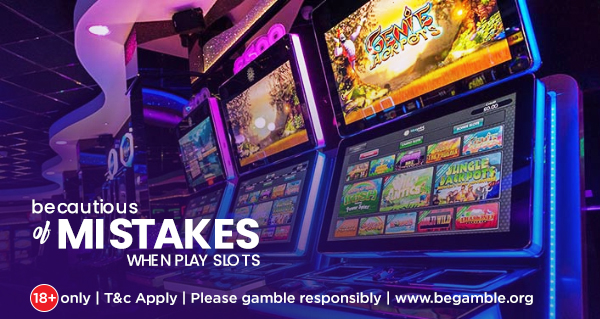 You might know that online slot machines do not have many tricks to apply, unlike other casino games, i.e., Blackjack or Video Poker. Still, there are few important strategies are there which can increase your chances of winning if you apply them correctly while playing slots. Most of the players don't know how to apply those tricks or simply don't give importance to them. Hence, they end up the game with a very nominal profit. If you really want to be a pro like player, then check out these 4 common mistakes that you shouldn't make while playing slots in live casinos.
Not Reading the "help" Portion
You cannot deny that slots are a very easy casino game to play. You just need to hit the spin after you deposited a certain amount of money. Because of this simplicity of the game, most of the players don't even bother to click or read the "Help" tab. They just play the game without knowing its basics. Only a few assumptions can't make you win. If you are playing a game, then you should know the very basics, at least. Therefore, before you click the spin, always read its rules by reading the "Help" tab rather than playing blindly.
Not Paying Attention to the Casino Bonuses
Another common mistake that the players usually make is, they just overlook the terms and conditions before they go for the deposit. Most of the online casinos offer welcome bonuses so that you can start playing the slots with less risk. If you are getting sign-up bonuses for your first deposit, then you should take advantage of it. Therefore, always read the terms and conditions in order to know whether you are getting bonuses or not. And always utilise them while playing slots to maximise the chances of winning the game.
Playing Slots Without Knowing Rtp
If you are playing slots, then you should know about the rate of RTP. RTP refers to "Return to Player," which means getting back your wagers over a long period of time. Therefore, if you are getting 96% from a slot machine, then that is a great deal for you. It means you are getting $96 for every $100 wager over a long period of time. So, you need to do a little bit of research to find out the machines which are giving high payback against the wager. If you fail to research, then the chances of winning high payback will be less for you.
Playing Only in Progressive Jackpot
Most of the players have a dream to win some big hands in a single spin by participating in a progressive jackpot. Therefore, they just go for those, and most of them end up the game with a big zero. It is not as easy as to say. It would help if you were an expert in slots in order to get big hands in a progressive jackpot. There are some working strategies for winning a jackpot, and those too will work less as you are playing online. So, don't just expect a big hand in one go rather gain some experience before you go for the jackpot and play against the experienced high rollers.
Endnote
The mentioned common mistakes that have been highlighted here is not the complete list of mistakes in online slots. However, if you study the game with a bit of concentration for some time and if you can manage to avoid these mistakes, then the chance of winning the game can be increased for sure. Therefore, it is advised that you learn the basics of the game before you click the spin button. Don't just play only for pleasure when you can get treasure too!
Post Name: Don't Ignore These 4 Mistakes When You Play Online Slots
Posted On: 08/11/2019
Author Name: Robert Bowron